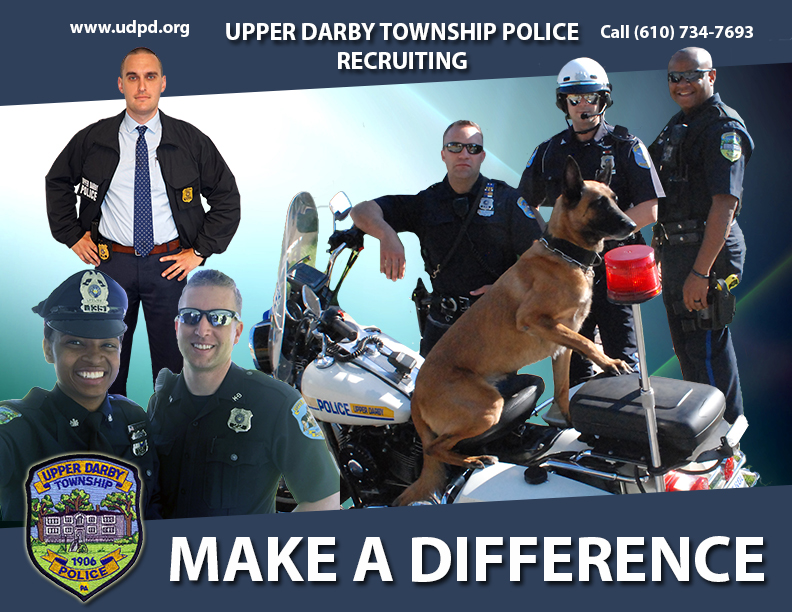 An application booklet may be obtained starting Thursday, May 17th, 2018.
Location: 7236 West Chester Pike, Upper Darby PA., Upper Darby Police Headquarters, in the Office of the Superintendent.
THE COMPLETED APPLICATION BOOKLET MUST BE RETURNED
NO LATER THAN 12:00 PM ON Wednesday, 

JUNE 20th, 2018

. 
 June 13th 7:00 PM – 8:30 pm attend

informational night at Bonner Prendergast Catholic High School 403 N. Lansdowne Ave. Drexel Hill, PA 19026
 Physical Agility Test : 8:30 am June 23rd, 2018

Bonner Prendergast Catholic High School, You must

me

21 years of age within 60 days of this date.

 If you pass the agility test, you qualify to take the written test August 25th, 2018 at Bonner Prendergast Catholic High School.




 
The Upper Darby Police Department follows the Civil Service hiring practices outlined in the Upper Darby Township Municipal Code.  Our last testing cycle was in the fall of 2015 and the current list of eligible candidates should run through to the middle of 2018.  While Civil Service rules are subject to change, the following information might be useful for anyone who desires to gain employment with our agency in the future.
There are various publications available for persons wanting to prepare academically for a Law Enforcement Civil Service Test. You might want to search the web for publications and practice exams that will help you prepare for the Upper Darby Police written examination the next time it is advertised.  You must be 21 years of age to take the written test.
Police Department applicants must pass a physical agility test before they can qualify to sit for the written examination. While the exact standards used by the Upper Darby Civil Service Commission are always subject to revision, a good rule of thumb would be to possess the physical talents to pass the physical agility standards of the Pennsylvania Municipal Police Officers Education and Training Commission. 
They can be located on the web at http://www.psp.pa.gov/MPOETC/training/Pages/Physical-Fitness.aspx
Police Department applicants must be able to pass an extensive background investigation prior to any final consideration by the Superintendent of Police or the Mayor of Upper Darby Township. This investigation includes a polygraph examination, credit report review, criminal history review, substance abuse evaluation, and character evaluation.  It is important for applicants to adopt and maintain a lifestyle that is free from deceptive behaviors, criminal behaviors and recreational drug use.  Superior performance in your current profession, sound financial decisions and maintaining a high ethical standard in your personal conduct will make you a much more attractive candidate for appointment.
Check back regularly to this website for information on the next civil service test and keep an eye on our social media outlets so you don't miss out on the next hiring cycle. 
Follow us on Twitter at: @UDPolice
Like us on Facebook at: http://www.facebook.com/Upper-Darby-Police-Department.  Thanks again for your interest in a career with the Upper Darby Police Department.